About Facilitated Communication
Facilitated Communication (FC), also referred to as supported typing, is a method of alternative communication. People whose verbal communication with others is severely impaired can express themselves through FC. Most commonly, these individuals, known as communication partners, type or use other assistive technology.
The method involves a facilitator who provides emotional and physical support, when needed, to a communication partner while monitoring posture and eye contact. This physical contact helps slow or stabilize movement. The facilitator should never move or lead the communicator. The facilitator's role is to provide the correct amount of support. This may be resistance or just a light touch to help the communicator overcome neuro-motor problems, such as impulsivity and poor hand-eye coordination. Many communicators that once needed significant support have demonstrated the ability to type with no physical touch and/or to read aloud.
Whom can FC help?
An assessment process is completed to analyze potential communication partners' limitations. First, it determines whether individuals have physical and/or motor planning limitations that affect their ability to point independently with deliberation. Second, it establishes whether physical support can help them overcome these limitations.
Many nonverbal children with compromised hand function can benefit from the use of supported typing. Children with varying degrees of verbal skills and hand function may also be candidates. It is important that the child, family, and anyone involved in the child's communication team be receptive to team members, have the opportunity to practice, and be committed to the process.
A Brief History of FC
Facilitated Communication's history goes back to the 1970's when Australian special educator Rosemary Crossley began using the technique. She went on to found the DEAL (Dignity, Education, Advocacy, Language) Communication Center in order to teach the method. In 1989 Douglas Biklen from Syracuse University visited. Upon returning to the United States, he spearheaded the effort to spread awareness about supported typing and to promote its practice.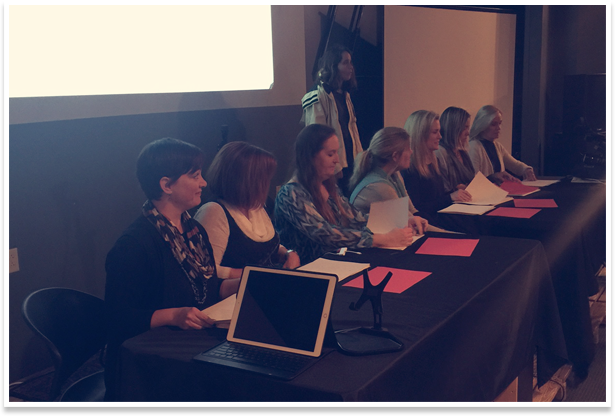 As FC grew in popularity, naturally detractors appeared. In 1992, PBS broadcast an episode of Frontline that called the method into question. In 1996, new research studies came back with positive findings for the technique. Both proponents and naysayers held their respective positions. While confrontational at the time period, this debate helped specialists improve upon the technique and ultimately refine it for the long term. As a result, FC came out stronger and more effective.
Since the 1990's, a number of documentaries have shown light upon FC. Autism Is a World, co-produced by Douglas Biklen and CNN, puts the viewer in Sue Rubin's shoes. An autistic woman once considered intellectually disabled, Sue learned to communicate through supported typing. This eye-opening documentary gives us a glimpse of her during a typical day. In 2004, it was even nominated for the Academy Award for Documentary Short Subject. Another documentary, Wretches & Jabberers and Stories from the Road, follows two autistic men who learned supported typing and can now speak after practicing it. In the program, the two-man team sets out on a journey to change discourse surrounding disability and intelligence.
Throughout the years, Syracuse University has remained a bulwark for alternative communication. It continues to lead ground-breaking research on the subject and provide resources to parents and friends of communication partners. In 2010, SU's Facilitated Communication Institute became the Institute on Communication and Inclusion (ICI). This name change reflects the school's decision to take a more interdisciplinary, refined approach, just as FC itself has.
Why Facilitated Communication? Well, Why Not?
Lynn Yeager's Personal Account of Finding Hope through FC and the Motivation to Found BridgeHaven Academy
December 2016
I had never heard of Facilitated Communication before January of 2015. And, to be honest, it is probably a good thing that I didn't know a whole lot about it so I could keep an open mind and go into a training seminar and information session without preconceived ideas. I've since read the Wikipedia articles and others claiming it is a hoax and pseudo-science, and I've also seen very bad videos showing horrible form where any viewer would question the validity. I'm so very thankful, that I did not research the method beforehand, because I would have talked myself out of exploring this option for my son. And, we would have never experienced this life changing event…
I remember thinking after leaving the seminar, that this could be life changing for us, or it would be just one more thing we tried that didn't work. We had been traveling through the world of autism and therapies and treatments for many years at this point. Many helped, some didn't, some had adverse effects, but nothing, and I mean nothing, changed the outcome of my son's life in one day like facilitated communication did!
February 15, 2015 my husband and I took Jacob, our son for an evaluation with a master trainer, Marilyn Chadwick. I almost cancelled, because by this time I had read all of the horrible reports about it online and even watched investigative videos, but, the seminars and training I had been to were very different. They were all about how to provide the proper techniques, resistance, and how to get started using this method.
There was a very regimented program, and a coach to help along the way. So, my husband and I decided to take Jacob to the evaluation and see what happened, even though I had little hope that this would work for us. At this point in our autism journey, I was afraid to have hope. Ms. Chadwick began by working with Jacob on the iPad using programs to watch his eye gaze and also see if by using resistance, his fingers would be able to touch the icons on the iPad that his eyes locked on. After moving through several of these exercises, she asked him if he would like to try more difficult ones. She pulled up a keyboard on his iPad, and provided resistance while he clearly typed, "No." During this session, another instructor was seated across the table charting Jacob's eye gaze the entire time. At no time did Ms. Chadwick look toward the iPad when she was providing resistance for Jacob. When asked why not, he replied, "my mom will make me." During the session, Jacob proceeded to type about information that only people that knew us well would have been privy to. My husband and I left that evaluation knowing that our son was an intelligent human being, and that we had not given him enough credit and had not treated him as such.
I think we both went through a period of beating ourselves up as to why we had not figured out the intelligence component, but I had graph after graph and chart after chart showing me a lack of mastery of simple skills. According to the data, he could not identify simple words, follow two to three word directions, and could not identify objects on a consistent basis. However, I was starting to learn about this incredible child and test his intelligence and skills daily at this point. We were seeing a facilitative communication trainer two times a week at this point and I was working with him for hours and hours each week. I felt so guilty for underestimating him that I was bound and determined to right my wrong. I was learning his favorite colors and foods for the first time! It was slow to learn the process, but Jacob was willing and joined me on my mission.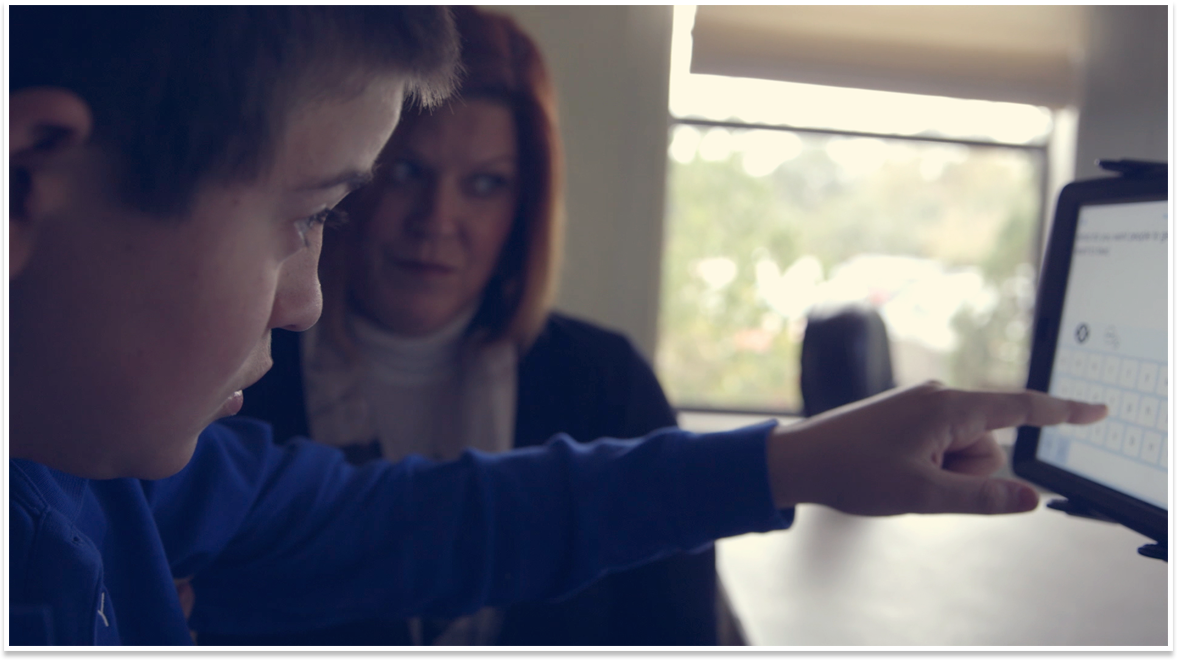 Throughout this process, we have been to many training sessions. We are very lucky to have Morgan Tyner from ACCEPTS, Inc. to help guide us and have even been to summer camps with other typers and trainers. Facilitated Communication looks nothing like the early videos I saw on the web. The training has been very specific and does not in any way guide a child's hand or answer. Many of the therapists and teachers that have worked with Jacob along the way have all witnessed the transformation not only in Jacob's ability to communicate through typing, but also his desire to learn and grow. Overnight, everything we were doing with Jacob had to be changed to reflect our understanding of his intelligence. It was not an easy time, because once Jacob demonstrated his intelligence and ability to communicate, he lost all patience. He even typed to a teacher, "I want to read National Geographic Science and not the kids one." It was difficult for him to give us a grace period to adjust.
I believe that every therapist or teacher should be held accountable. I have always said that bad therapy is worse than no therapy. Communication partners or coaches that practice facilitated communication are no different. It is so important that anyone that practices this method with a child be highly trained and know what they are doing. One training seminar or session will not give a facilitator or communication partner that kind of training. I can speak from personal experience that Jacob and I work very well together only because of the continued training we both have participated in. We have hundreds of hours of practice under our belts and have been coached and supervised weekly. We have participated in summer camps and training sessions, and we have several people that are trained as communication partners to work with him as well. Any one that helps to facilitate his communication must undergo continuous training. And, If I feel that someone is not a good match for him, or if he indicates that he feels they are not providing him the proper support, then they are no longer invited to work with him if they cannot work with our supervisor to be able to provide him the correct resistance.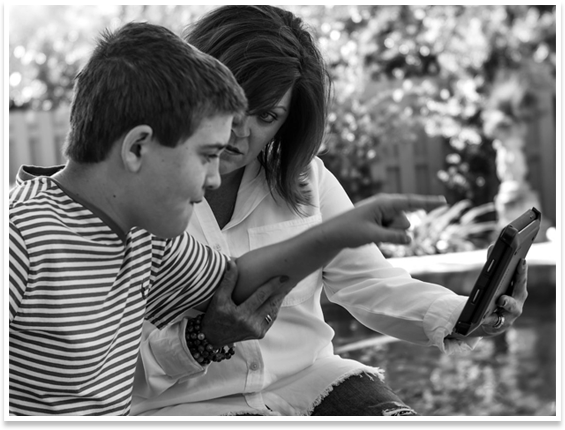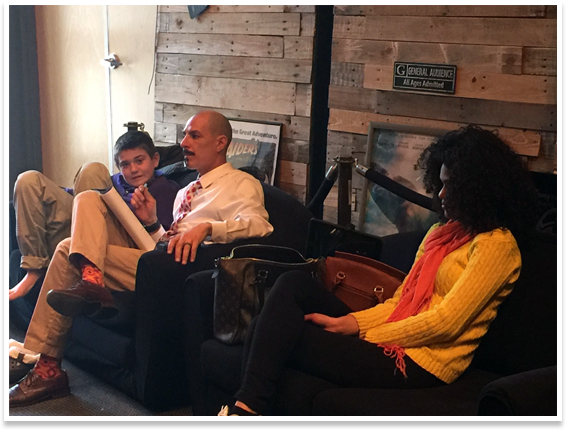 I once asked Jacob why he couldn't touch a picture he was asked to, but could type complex thoughts with resistance. It made no sense to me, but his answer put it all into perspective. He typed, "Autism is a mind body disconnect. I see the picture of the duck they want me to touch but I can't get my hand to cooperate with my brain so I overcorrect and then touch the wrong card. I get so mad because they think I don't know what a duck is, but I know everything about that duck." Then I asked how he could touch letters to type words. "When you pull my arm back, I can feel where my fingers are."
As we continued this journey with Jacob, it became obvious that we were going to have to figure out what to do with his education in order to meet his thirst for knowledge and help him reach his potential. There weren't any programs around available for children like Jacob, and he kept begging me to do something. So, I decided that Jacob needed to be in a school that would embrace his only method of communication at this point, and since there wasn't one within a 200 mile radius that would work for us, we decided to open one ourselves. Jacob needed a community, and our community needed this option for schooling their children.
Looking back over my career, I think God had been preparing me for this role for a long time. I started teaching in the early 1990's and taught various programs from Gifted and Talented to Reading Recovery and everything in between. During that time I earned a Master's Degree in Education Administration, but my love was teaching, so I completed coursework earning a Specialist's Credential in Exceptional Education. We moved to Tampa and I left the classroom to work at the college level supervising student interns. It was in this position I found my true calling for being involved in implementing change for our exceptional students. Now, I am looking forward to being able to use all of the on the job training to create the perfect environment that will foster learning and presuming competence for my son and so many children like him.
BridgeHaven Academy will officially open its doors January 2017. Our purpose is to give a voice to those who cannot speak by presuming competence. We believe in our students' ability to communicate using a variety of methods and learn through meaningful academic content.
We actually took the proverb, "If a child cannot learn by the way we teach, then we must teach in the way a child can learn," and applied it to every aspect of our school. We exist to educate children to reach and exceed their potential through whatever method works best.